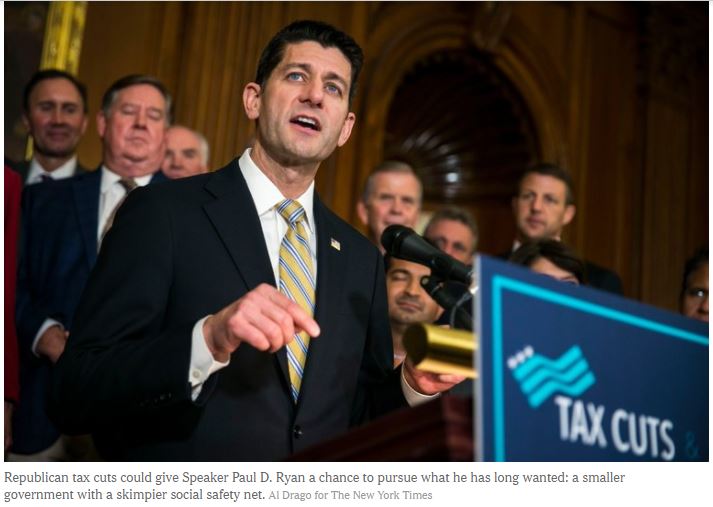 As the tax cut legislation passed by the Senate early Saturday hurtles toward final approval, Republicans are preparing to use the swelling deficits made worse by the package as a rationale to pursue their long-held vision: undoing the entitlements of the New Deal and Great Society, leaving government leaner and the safety net skimpier for millions of Americans.
Speaker Paul D. Ryan and other Republicans are beginning to express their big dreams publicly, vowing that next year they will move on to changes in Medicare and Social Security. President Trump told a Missouri rally last week, "We're going to go into welfare reform."
Their nearly $1.5 trillion package of tax cuts, a plan likely to win final approval in the coming days, could be the first step. But their strategy poses enormous risks, not only for millions of Americans who rely on entitlement programs, but also for Republicans who would wade into politically difficult waters, cutting popular benefits for the elderly and working poor just after cutting taxes for profitable corporations.
"The way to get at fixing the debt is to feel like everybody is willing to put something on the table," said Maya MacGuineas, the president of the Committee for a Responsible Federal Budget, a bipartisan group. "Once you have one side grab all it could, you're never going to have the other side show up."
Even if the tax cut sparks the kind of economic growth that Republicans advertise, the tax bill will increase the deficit by $1 trillion over 10 years, the nonpartisan congressional Joint Committee on Taxation said.