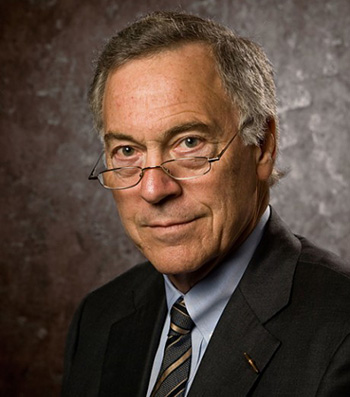 The father of the currency board after a spectacle of Verdi's "Aida" at the Sofia Opera
"You have 5-star orchestra, amazing chorus and wonderful soloists", so summarized in short his impressions from a spectacle of "Aida" at the Sofia Opera Prof. Steve Hanke. Known in our country as "the father of the currency board", the economist estimated very highly Hugo de Ana's production of Verdi's masterpiece. "The directing, sets, costumes – everything was presented in an spectacular way", shared he and reminded himself, that he visited for the first time a spectacle at the Sofia Opera and Ballet in 1991. "Since that time things here have changed considerably, you have gone visibly far forward", said the professor, who was accompanied by his wife Liliane. For both of them this was the first visit of Giuseppe Verdi's famous title.
Prof. Hanke showed an interest in the history of the Sofia Opera and was impressed to learn, that the theatre's chorus was preferred by the great bass Boris Christoff at his recordings and guest-performances in Europe. "Bulgaria's operatic art is on such level, that together with your cultural and historical heritage it presents you in the best way for you. They are your best ambassadors before the world", pointed the famous economist. He expressed his desire to come back in Sofia still this summer, in order to watch Plamen Kartaloff's production of "Der Ring des Nibelungen" by Wagner, which will be presented for the third time from 4 to 9 July.
Prof. Steve Hanke and his wife were accompanied at the Sofia Opera and Ballet by Acad. Stefan Vodenicharov, President of the Bulgarian Academy of Sciences, who also shared his enthusiasm about the spectacle of "Aida". In the leading roles took part the soloists Bayasgalan Dashnyam (Aida), Tsveta Sarambelieva (with debut as Amneris), Kostadin Andreev (Radamès), the guest-performing Ventseslav Anastasov (Amonasro), Svetozar Rangelov, Petar Buchkov. Conductor of the spectacle, with the chorus and the orchestra of the Sofia Opera, was Erich Wächter.
Steve Hanke is the author of the currency board system in our country, introduced in July 1997, which successfully coped with hyperinflation. He was economic advisor of the President Petar Stoyanov. Hanke is Professor at the John Hopkins University. He was economic adviser of the President Ronald Reagan and of the Minister of Economy of Argentina, as well as President of the most quickly developing investment fund of 1995 – Toronto Trust Mutual Fund Argentina.
Dimitar SOTIROV